5 Reasons why Touchland is revolutionizing personal hygiene.
Ultra protective formula
Touchland's formula contains Ethyl Alcohol which kills 99.9% of most common germs. The formula also contains Lemon Essential Oil and Radish Root Ferment which provide broad spectrum antimicrobial protection.
Hydrating ingredients
Award-winning formula containing Aloe Vera which moisturizes the skin with no greasy feel. The formula also contains Lime Essential Oil which nourishes and purifies the skin.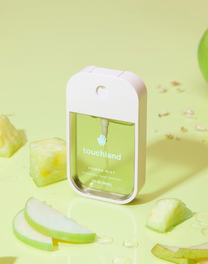 Micro-mist application
User-friendly application in a fine mist. Disperses an airy, luxurious mist with extra-tiny droplets.
500 sprays
Touchland Power Mist delivers 10x more doses than regular pocket-sized gel bottles.